Beatrice Flowerchild
(ベアトリス・フラワーチャイルド,

?

)
is an antagonist in
Fate/kaleid liner PRISMA☆ILLYA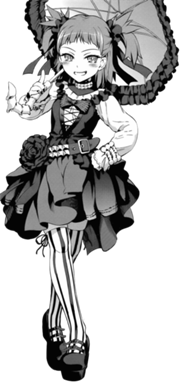 and a member of the
Ainsworth
.
Appearance
Edit
Personality
Edit
Beatrice is shown to be highly volatile to the point of potentially bipolar. Appearing to take great joy in violence, she tends to get irritated easily if people survive her onslaughts. She has a love of stuffed toys and Julian Ainsworth, but her girlish affection for Julian can quickly turn to a violent depression in which she rips the heads off of stuffed toys she steals from Erika.
Abilities
Edit
Relationships
Edit
Ad blocker interference detected!
Wikia is a free-to-use site that makes money from advertising. We have a modified experience for viewers using ad blockers

Wikia is not accessible if you've made further modifications. Remove the custom ad blocker rule(s) and the page will load as expected.