Magical Ruby
(マジカルルビー,

?

)
is the
Kaleidostick
partner of
Illyasviel von Einzbern
in
Fate/kaleid liner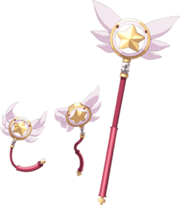 PRISMA☆ILLYA
.
Appearance
Edit
Personality
Edit
Ruby is a sadistic Mystic Code that hates its Creator and likes to tease and annoy it's user/master . Aside from it's sadistic traits, Ruby can be exeptionally loyal to its master; especially Illya
Background
Edit
A Kaleidostick, a magical device that enables its user to become a magical girl. Though Ruby initially belongs to Rin, Rin's constant squabbling with Luvia causes Ruby to abandon Rin and contract itself to Illya instead. Ruby is Sapphire's older sister.
Fate/Kaleid Liner Prisma Illya
Edit
Abilities
Edit
As a 'Second Magic' Mystic Code, Ruby can access the Mana Plane and provide it's user/master unlimited Prana. Ruby also has the ability to Include cards.
Relationships
Edit
Illyasviel von Einzbern
Edit
Luviusgeltia Edelfelt
Edit
Miyu Edelfelt
Edit
Magical Ruby
Edit
Rin Tohsaka
Edit
Ad blocker interference detected!
Wikia is a free-to-use site that makes money from advertising. We have a modified experience for viewers using ad blockers

Wikia is not accessible if you've made further modifications. Remove the custom ad blocker rule(s) and the page will load as expected.