Magical Sapphire
(マジカルサファイア,

?

)
is the
Kaleidostick
partner of
Miyu Edelfelt
in
Fate/kaleid liner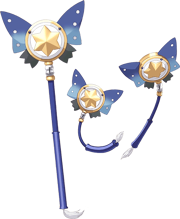 PRISMA☆ILLYA
.
Appearance
Edit
Personality
Edit
The younger sister of Ruby however she is slightly more mature and formal like Miyu she takes her responsibility as a kaleido stick very seriously and always follows orders.
Background
Edit
A Kaleidostick, the younger sister of Magical Ruby, that enables Miyu to become a Magical Girl. Sapphire was originally assigned to Luvia, but, as with Ruby, Sapphire abandoned Luvia after becoming tired of how she was constantly quarreling with Rin.
Fate/Kaleid Liner Prisma Illya
Edit
Abilities
Edit
Relationships
Edit
Miyu Edelfelt
Edit
Illyasviel von Einzbern
Edit
Magical Ruby
Edit
Rin Tohsaka
Edit
Luviusgeltia Edelfelt
Edit
Ad blocker interference detected!
Wikia is a free-to-use site that makes money from advertising. We have a modified experience for viewers using ad blockers

Wikia is not accessible if you've made further modifications. Remove the custom ad blocker rule(s) and the page will load as expected.