Martha Mackenzie
is an elderly C
anadian woman who lives in Japan.  She and her husband, Glen, is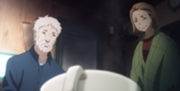 originally from Australia.  Their son, daughter-in-law, and grandson were unable to adapt to Japan and have returned to Canada. 
Appearance
Edit
Personality
Edit
Fate/Zero
Edit
Relationships
Edit
Glen Mackenzie
Edit
Daughter-In-Law
Edit
Rider (Fate/Zero)
Edit
Waver Velvet
Edit
Ad blocker interference detected!
Wikia is a free-to-use site that makes money from advertising. We have a modified experience for viewers using ad blockers

Wikia is not accessible if you've made further modifications. Remove the custom ad blocker rule(s) and the page will load as expected.